DATA SHEET
H320 Access Point
Wall-Mounted 802.11ac Wave 2 Wi-Fi Access Point and Switch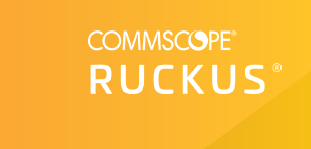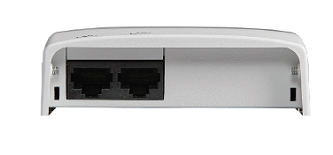 BENEFITS
AFFORDABLE ALL-IN-ONE
Deliver great in-room Wi-Fi and concurrent wired IP connectivity with 802.11ac Wave 2 speed and a built-in 2-port switch.
STUNNING PERFORMANCE
Extends coverage with patented BeamFlex+™ adaptive antenna technology while mitigating interference by utilizing multi-directional antenna patterns.
MULTIPLE MANAGEMENT OPTIONS
Manage the H320 from the cloud, or with on-premises physical/virtual appliances.
GET OPTIMAL THROUGHPUT
ChannelFly dynamic channel technology uses machine learning to automatically find the least congested channels. You always get the highest throughput the band can support
SERVICE MORE DEVICES
Connect more devices simultaneously with two MU-MIMO spatial streams and concurrent dual-band 2.4/5GHz radios while enhancing non-Wave 2 device performance.
SUPPORT MORE SERVICES
Multiple SSIDs and switch ports help support services such as VoIP, IPTV, and high-speed Internet access and in-room device connectivity
KEEP YOUR SWITCHES AND CABLES
Designed to operate on existing PoE switches and CAT 5e cabling to minimize costs.
MORE THAN WI-FI
Enhance your network with Cloudpath security and management software, SPoT real-time Wi-Fi location engine and analytics software, and SCI network analytics

Wi-Fi is a critical amenity as users bring more devices into our hotel rooms, meeting rooms, and classrooms. However, providing great Wi-Fi performance in every room is cost-prohibitive.
The H320 combines an 802.11ac Wave 2 Wi-Fi access point and wired switch into one wall-mount device. Designed specifically for per-room deployments, the H320 is compact, inconspicuous, secure, and easy to mount to an electrical junction box. Bottom facing Ethernet ports eliminate unsightly cabling and accommodates any furniture placement.
Easily supports converged wired and wireless services with one device, that include VoIP, IPTV, high-speed Internet access and in-room Wi-Fi device connectivity.
This 802.11ac Wave 2 Wi-Fi AP and switch incorporates patented technologies found only in the Ruckus Wi-Fi portfolio.
•
Extended coverage with patented BeamFlex+ utilizing multi-directional antenna patterns
•
Improved throughput with ChannelFly which dynamically find less congested Wi-Fi channels to use
The H320 supports Multi-User MIMO (MU-MIMO) which increases network throughput by transmitting to multiple clients simultaneously.
Support per-room wired IP devices from TVs to phones with 2 onboard Ethernet ports. Also, with built-in visual troubleshooting tools within Ruckus Wi-Fi controllers, administrators can accelerate resolution of trouble tickets.
Whether organizations are deploying ten or ten thousand APs, the H320 can be deployed as a standalone AP or centrally managed by SmartZone, ZoneDirector, or FlexMaster management platforms.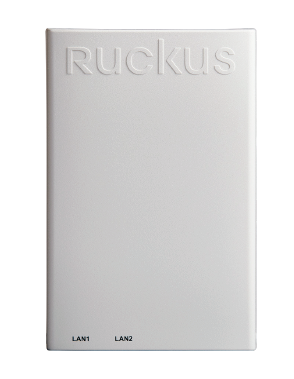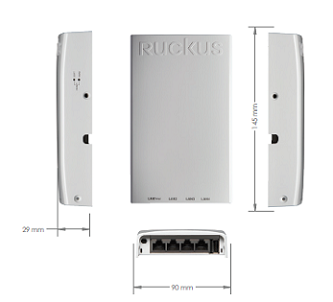 FEATURES
WIRELESS
•
Integrated dual radio 2x2 802.11ac Wave 2 Wi-Fi AP and Ethernet wall switch supporting Multi-User MIMO (MU-MIMO)
•
Ruckus patented BeamFlex+ adaptive antennas optimized for in-room performance and mobile clients
•
Matched Band Coverage ensures similar Wi-Fi coverage for both 2.4 and 5 GHz client devices
•
Multiple BSSIDs per radio with unique QoS and security policies
•
WPA-PSK, WPA-TKIP, WPA2 AES, 802.11i
•
802.1X support for RADIUS and Active Directory*
WIRED
•
2 x 10/100Mbps Ethernet ports
•
Cable channel for preserving legacy infrastructure (e.g. PBX phones)
POWER
SOFTWARE
•
Smart Positioning Technology (Real-time location engine and analytics software)
•
Cloudpath (Security and management software)
•
SmartCell Insight (Network analytics engine)
•
Application recognition and control*
Accessories
•
Mounts over a standard US and EU single gang wall jack
PHYSICAL CHARACTERISTICS
Power
Physical Size

•

89mm (L) x 136mm (W) x 29mm (H)

Weight
Physical Ports

•

2 x 10/100 Mbps Base-T 802.3, 802.3u, RJ-45 Ethernet access ports.

•

1 x 1GbE 802.3, 802.3u, 802.3ab, 802.3af PoE input, RJ-45

Mounting Options

•

Electrical wallbox; Standard US and EU single gang wall jack

•

Optional bracket for offset & wall mount

Environmental Conditions

•

Operating Temperature:0°C (32°F) - 40°C (104°F)

•

Operating Humidity: 15% - 95% non-condensing

Power Draw
RF
Minimum Rx Sensitivity
Beamflex* Sinr Tx Gain
Beamflex* Sinr Rx Gain
Interference Mitigation
*
BeamFlex gains are statistical system level effects translated to enhanced SINR based on observations over time in real-world conditions with multiple APs and many clients
PERFORMANCE AND CAPACITY
Concurrent users
Voice Calls
BSSID
MULTIMEDIA AND QUALITY OF SERVICE
802.11e/WMM
Software Queues

•

Per traffic type (4), per client

Traffic Classification

•

Automatic, heuristics and TOS based or VLAN-defined

Rate Limiting

•

Dynamic, per-user or per-WLAN
NETWORK ARCHITECTURE
IP
VLANs

•

802.1Q (1 per BSSID or dynamic, per user based on RADIUS)

802.1X For Ethernet Ports
MANAGEMENT
Deployment Options

•

Standalone (individually managed)

•

Managed by ZoneDirector

Configuration

•

Web User Interface (HTTP/S)

•

CLI (Telnet/SSH), SNMP v1, 2, 3
Wi-Fi
Standards
MIMO Configuration

2.4GHz

5GHz

Supported Data Rates

•

802.11n/ac: 6.5Mbps – 173.4Mbps (20MHz)

•

13.5Mbps – 400Mbps (40MHz)

•

29.3Mbps – 867Mbps (80MHz)

•

802.11a: 54, 48, 36, 24, 18, 12, 9 and 6Mbps

•

802.11b: 11, 5.5, 2 and 1 Mbps

•

802.11g: 54, 48, 36, 24, 18, 12, 9 and 6 Mbps

Rf Power Output*
(Aggregate)
Channelization
Frequency Band

•

IEEE 802.11 b/g/n: 2.4 – 2.484GHz

•

IEEE 802.11a/ac: 5.15 – 5.25 GHz; 5.25 – 5.35GHz;

•

5.47 – 5.725 GHz; 5.725 – 5.85GHz

Operating Channels

•

5GHz : 36-64, 100-140, 149-165

•

Channel availability is country dependent according to the local regulations

Wireless Security

•

WPA-PSK, WPA-TKIP, WPA2 AES, 802.11i

•

Authentication via 802.1X with ZoneDirector, SmartZone, local authentication database, support for RADIUS, LDAP, and Active Directory
*
Maximum power varies by country
**
See price list for latest country certifications
PRODUCT ORDERING INFORMATION
MODEL
DESCRIPTION
H320 Wi-Fi 802.11ac Wave 2 Wall Switch
901-H320-XX00

•

Dual band Wave 2 802.11ac Wi-Fi Wall Switch. Does not include power adapter or PoE injector

Optional Accessories
902-1120-0000

•

Optional Surface-mount bracket
XX: US/KS/JP/Z2/WW
For explation of XX - please consult current Ruckus System Pricelist
Region availability subject to Certification Date per region
CommScopeは、人類の発展を促進する画期的なアイデアや発見により、通信の限界を押し上げる取り組みを続けています。当社はお客様や提携企業と協力し、世界で最も高度なネットワークを設計し、構築しています。次世代のチャンスを捉え、よりよい明日を築くことが、当社の理念であり、目標です。詳細は、
commscope.com
をご覧ください。

詳細は当社ウェブサイトをご覧いただくか CommScope営業窓口までお問い合わせください。
© 2020 CommScope, 無断複写・転載を禁じます。
®や™のマークがついた商標はすべて CommScope, Inc.の登録商標または商標です。本書はプランニングを目的としてのみ作成され、CommScopeのいずれの製品またはサービスに関する仕様や保証を変更または補完するものではありません。 CommScopeは、ISO9001、TL9000、ISO14001などの国際規格に従って承認された、世界中にある CommScopeの数多くの施設で、ビジネスの完全性および環境持続性に関する最高度の規格を採用しています。