データシート
RUCKUS M510
Mobile Indoor 802.11ac Wave 2 Wi-Fi AP with LTE Backhaul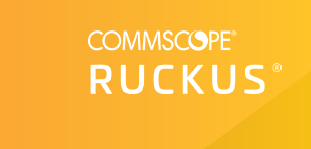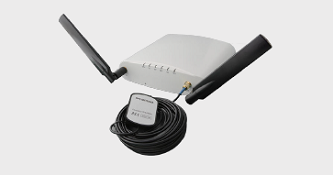 BENEFITS
MOBILE WI-FI
Superior performance, managed Wi-Fi without cable pulls using an LTE connection to support mobile hotspot requirements.
CARRIER-GRADE MANAGEMENGT
M510 with SmartZone brings in carriergrade management features. MSPs can leverage physical or virtual SmartZone controller to manage all APs.
ONBOARD GPS
GPS support location aware services for tracking the mobile unit.
ENTERPRISE WI-FI COVERAGE
Provide an excellent user experience in any environment with patented BeamFlex+™ adaptive antenna technology and multiple directional antenna patterns.
AUTOMATE OPTIMAL THROUGHPUT
ChannelFly™ dynamic channel technology uses machine learning to automatically find the least congested channels. You always get the highest throughput the band can support.
SERVE MORE DEVICES
Connect more devices simultaneously with two MU-MIMO spatial streams and concurrent dual-band 2.4/5GHz radios while also enhancing non-Wave 2 device performance.
MORE THAN WI-FI

In a fiercely competitive marketplace, managed service providers (MSP) are looking for new ways to differentiate their services and open new revenue streams. One nascent market is the "mobile-wireless" segment where new opportunities to add branded Wi-Fi to mobile and semi-mobile public access context exist that complement LTE networks. But integrating into existing LTE networks with mobile Wi-Fi hotspot services has not been straightforward.
The Ruckus M510 mobile-wireless access point (AP) is an 802.11ac 2x2:2 Wave 2 Wi-Fi AP designed to leverage LTE networks as a backhaul and connect wirelessly back to any network without the need for an Ethernet cable connection.
Because of the wireless LTE backhaul capability, the M510 addresses multiple deployment scenarios not previously served, including mobile "in-vehicle" Wi-Fi ("mobile AP"), rapid Wi-Fi deployment for pop-up retail or first-responders and temporary Wi-Fi deployments at a construction site. M510's LTE backhaul can serve as a failover or redundancy for the WAN connectivity. Additionally, the M510 satisfies an operator's requirement to deliver branded Wi-Fi connectivity for mobile outdoor hotspots for transit hubs or isolated public locations where a wired connection is too expensive or impossible.
The M510 AP incorporates patented technologies found only in the Ruckus Wi-Fi portfolio.
•
Extended coverage with patented BeamFlex+ utilizing multi-directional antenna patterns.
•
Improve throughput with ChannelFly, which dynamically finds less congested Wi-Fi channels to use.
Additionally, using the M510's integrated GPS, customers can automatically establish the exact location of each access point on a network or geographic map in real-time—greatly simplifying installation, tracking and maintenance.
Whether operators are deploying ten or ten thousand APs, the M510 is easy to manage through any SmartZone physical or virtual controller. MSPs can leverage the carrier-grade features of SmartZone such as resiliency and geo-redundancy.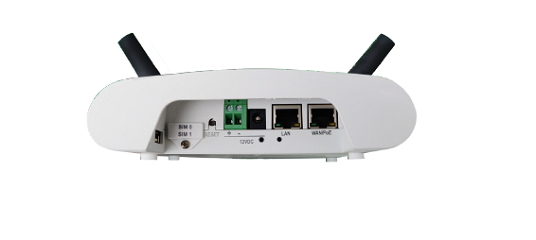 ACCESS POINT ANTENNA PATTERN
Ruckus' BeamFlex+ adaptive antennas allow the M510 AP to dynamically choose among a host of antenna patterns (up to 64 possible combinations) in real-time to establish the best possible connection with every device. This leads to:
Traditional omni-directional antennas, found in generic access points, oversaturate the environment by needlessly radiating RF signals in all directions. In contrast, the Ruckus BeamFlex+ adaptive antenna directs the radio signals perdevice on a packet by-packet basis to optimize Wi-Fi coverage and capacity in realtime to support high device density environments. BeamFlex+ operates without the need for device feedback and hence can benefit even devices using legacy standards.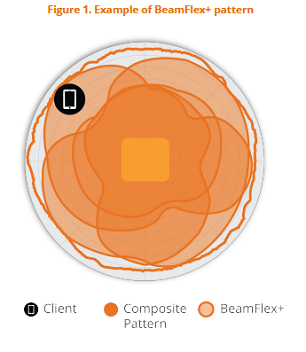 Note: The outer trace represents the composite RF footprint of all possible BeamFlex+ antenna patterns, while the inner trace represents one BeamFlex+ antenna pattern within the composite outer trace.
Wi-Fi
Wi-Fi Standards

•

IEEE 802.11a/b/g/n/ac Wave 2

Supported Rates

•

802.11ac: 6.5 to 867 (MCS0 to MCS9, NSS = 1 to 2 for VHT20/40/80)

•

802.11n: 6.5 Mbps to 300 Mbps (MCS0 to MCS15)

•

802.11a/g: 54, 48, 36, 24, 18, 12, 9, 6 Mbps

•

802.11b: 11, 5.5, 2 and 1 Mbps

Supported Channels

•

5GHz: 36-64, 100-144, 149-165

MIMO
Spatial Streams
Channelization
Security

•

WPA-PSK, WPA-TKIP, WPA2 AES, 802.11i, Dynamic PSK

Other Wi-Fi Features

•

WMM, Power Save, Tx Beamforming, LDPC, STBC, 802.11r/k/v
WI-FI RADIO SPECIFICATIONS
Antenna Type

•

BeamFlex+ adaptive antennas with polarization diversity

•

Adaptive antenna that provides up to 64 antenna patterns per band

Antenna Gain (max)
Peak Transmit Power *1 (aggregate across MIMO chains)
Minimum Receive Sensitivity
Frequency Bands

•

U-NII-2A (5.25-5.35GHz)

•

U-NII-2C (5.47-5.725GHz)

•

U-NII-3 (5.725-5.85GHz)
*1 Max transmit power varies by country to operate in accordance with local regulation
2.4GHZ RECEIVE SENSITIVITY
HT20
HT40
MCS0
MCS7
MCS0
MCS7
-95
-77
-92
-74
5GHZ RECEIVE SENSITIVITY
VHT20
VHT40
VHT80
MCS0
MCS7
MCS0
MCS7
MCS0
MCS7
-95
-77
-92
-74
-89
-71
3G/4G RADIO SPECIFICATIONS
Physical Layer Rates

LTE:

•

LTE FDD: Max 150Mbps (DL)/Max 50Mbps (UL)

•

LTE TDD: Max 130Mbps (DL)/Max 35Mbps (UL)

UMTS:

•

DC-HSDPA: Max 42Mbps (DL)

•

HSUPA: Max 5.76Mbps (UL)

•

WCDMA: Max 384Kbps (DL)/Max 384Kbps (UL)

Bands

USA (AT&T) SKU:

Domain 1 SKU:

•

LTE FDD: B1/B3/B5/B7/B8/B20

Domain 2 SKU:

•

LTE FDD: B1/B3/B5/B7/B8/B20

Japan SKU:

•

LTE FDD: B1/B3/B8/B18/B19/B26

Peak Transmit Power
Minimum Receive Sensitivity
Antenna connectors
Antennas (included with M510)

•

2x whip antennas, hinged, 700-2700MHz, peak gain 2dBi

SIM Card

•

2x SIM Card slots (primary & redundant), Micro-SIM size (3FF)
RUCKUS RADIO MANAGEMENT
Antenna Optimization

•

Polarization Diversity with Maximal Ratio Combining (PD-MRC)

Wi-Fi Channel Management
Client Density Management

•

Adaptive Band Balancing

•

Airtime-based WLAN Prioritization

SmartCast Quality of Service
Mobility
Diagnostic Tools
ORDERING INFORMATION
901-M510-ATT0

•

Ruckus M510, USA (AT&T)

901-M510-D100

•

Ruckus M510, Domain 1 (All Carriers in below countries)

•

(India, Singapore, Malaysia, Philippines, Thailand, Vietnam, Hong Kong, Europe, Turkey)

901-M510-D200

•

Ruckus M510, Domain 2 (All Carriers in below countries)

•

(Australia, New Zealand, Mexico, Brazil, Taiwan)
2.4GHZ TX POWER TARGET (DUAL CHAIN)
Rate
Pout (dBm)
MCS0 HT20
24
MCS7 HT20
21
MCS0 HT40
23
MCS7 HT40
21
MCS8 VHT20
20
MCS9 VHT40
19
5GHZ TX POWER TARGET (DUAL CHAIN)
Rate
Pout (dBm)
MCS0 VHT20
23
MCS0 VHT80
22
MCS7 VHT40, VHT80
22
MSC9 VHT40, VHT80
20
WI-FI PERFORMANCE AND CAPACITY
Physical Layer Rates
Client Capacity

•

Up to 512 clients per AP

SSID
GPS SPECIFICATIONS
GPS Radio

•

GNSS: GPS, GLONASS, BeiDou, Galileo

Antenna Connector
Antenna (included with M510)

•

Magnetic mount, 2dBi active GPS antenna, 3m/10ft cable
NETWORKING
Controller Platform Support
Mesh

•

SmartMesh™ wireless meshing technology. Self-healing Mesh (in future release)

IP
VLAN

•

802.1Q (1 per BSSID or dynamic per use based on RADIUS

802.1x

•

Authenticator & Supplicant

Tunnel
Gateway & Routing
Policy Management Tools

•

Application Recognition and Control
PHYSICAL INTERFACES
Ethernet
USB

•

1 USB 2.0 port, Type A connector
PHYSICAL CHARACTERISTICS
Physical Size

•

17.2(L) x 16.7(W) x 4.2(H) cm

•

6.8 (L) x 6.6(W) x 1.6(H) in.

Weight
Mounting

•

Wall, Drop ceiling, Desk (mounting hardware included)

•

Vehicle (flange mounting bracket sold separately)

Physical Securitys

•

Hidden latching mechanism

Operating Temperature

•

-40ºC (-40ºF) to 65ºC (149ºF)

Operating Humidity

•

Up to 95%, non-condensing
POWER *2
Power Supply
Operating Characteristics
Max Power
Consumption
PoE (802.3af)

•

2nd Ethernet port disabled

•

2.4GHz: 19dBm per chain

PoE+ (802.3at)
12VDC (9V DC-16V DC) Input – Barrel connector

12VDC (9V DC-16V DC) Input – Terminal block
*2 Max power varies by country setting, band, and MCS rate.
CERTIFICATIONS AND COMPLIANCE
Wi-Fi Alliance *3

•

Wi-Fi CERTIFIED™ a, b, g, n, ac

•

Passpoint®, Vantage, AMB, OCE

Standards Compliance *4

•

EN 61000-4-2/3/5 Immunity

•

EN 50121-3-2 Railway EMC

•

IEC 61373 Railway Shock & Vibration

•

EN 62311 Human Safety/RF Exposure

Mobile Radio Approvals
*3 Wi-Fi Alliance &ertifications may be available subsequent to product release.
*4 For current certification status, please see price list.
 
RELATED SOFTWARE AND SERVICES
Location Based Services
Network Analytics

•

SmartCell™ Insight (SCI)

Security and Policy
CommScopeは、人類の発展を促進する画期的なアイデアや発見により、通信の限界を押し上げる取り組みを続けています。当社はお客様や提携企業と協力し、世界で最も高度なネットワークを設計し、構築しています。次世代のチャンスを捉え、よりよい明日を築くことが、当社の理念であり、目標です。詳細は、
commscope.com
をご覧ください。

詳細は当社ウェブサイトをご覧いただくか CommScope営業窓口までお問い合わせください。
© 2020 CommScope, 無断複写・転載を禁じます。
®や™のマークがついた商標はすべて CommScope, Inc.の登録商標または商標です。本書はプランニングを目的としてのみ作成され、CommScopeのいずれの製品またはサービスに関する仕様や保証を変更または補完するものではありません。 CommScopeは、ISO9001、TL9000、ISO14001などの国際規格に従って承認された、世界中にある CommScopeの数多くの施設で、ビジネスの完全性および環境持続性に関する最高度の規格を採用しています。